Memberships
A comprehensive, feature-rich solution designed to allow golf clubs to efficiently manage all aspects of memberships in one place. Fully-integrated with BRS Golf's tee sheet, members booking website and app, Memberships allows you to easily bill members and take payments online, create customised payment schemes and automate time-consuming admin tasks.
Why Choose Memberships?
Discover the unique benefits of our new membership management software
Fully integrated
Integrated with BRS Golf's tee sheet and app, manage all aspects of membership in one place
Chain subscriptions
Based on age, length of service or design your own – extend introductory offers that convert to full membership
Automate tasks
Set your allowed grace period for non-payers, after which members' logins will automatically be disabled
Customisable
Complete control over how members pay their bills. Offer monthly, annually or custom subscription cycles
New: Member billing
Generate bills – edit print, email and publish directly to the member website and app. Create one or 1,000 in a few clicks
Flexibility
Our Memberships software has been developed with club admins in mind, offering diverse possibilities
Flexible Memberships
Grow and retain your customer base with a flexible approach to club membership – perfect for busy, modern golfers
Online Payments
Allow members to pay online through our bespoke payment solution and refund directly through BRS Golf
New: Custom Filters
Easily create, sort and view your members – filter by location, gender and more. Then apply your filters to bills and subscriptions.
New: Google Pay
Give your members increased convenience with multiple payment methods, including Google Pay via the BRS Golf app.
Club Benefits
The only membership management solution you'll ever need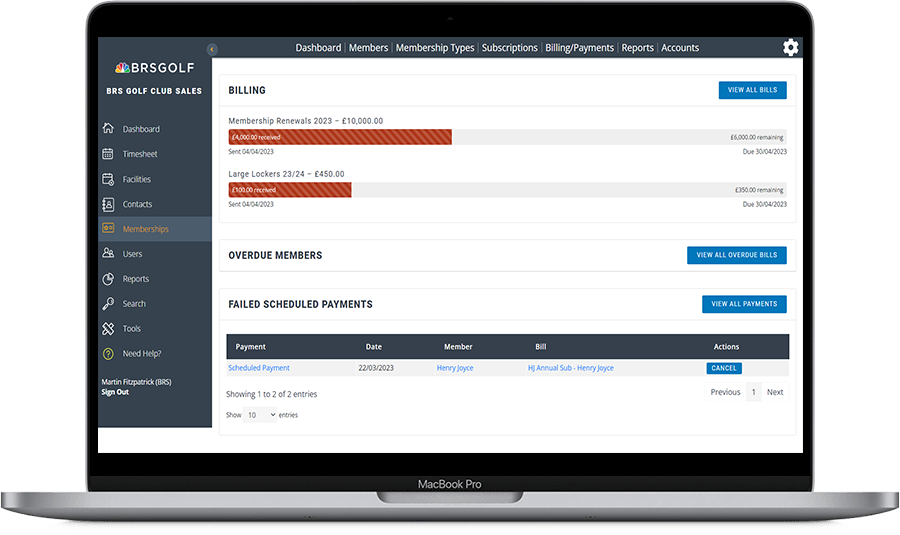 Fully Integrated
Fully integrated to the world's #1 tee sheet and members' app, Memberships lets you manage all aspects in one place
Reduce Revenue Risk
Efficient at managing all elements of member payments, to reduce risk, manage cash flows and improve reconciliations
Flexible Software
Software that works for you, automating tasks with ease, and delivering diverse possibilities
Member Benefits
Memberships makes life simpler for members as well as golf clubs
Driven by Members
Memberships is fully integrated with BRS Golf members portal and compatible with our competition management and hadicapping solution, featuring Golf Genius
Pay online
Members can view and pay all their bills online and sign up for any payment options offered by the club
User-friendly
Members will get reminders in the members' portal when their bills are due so they never miss a payment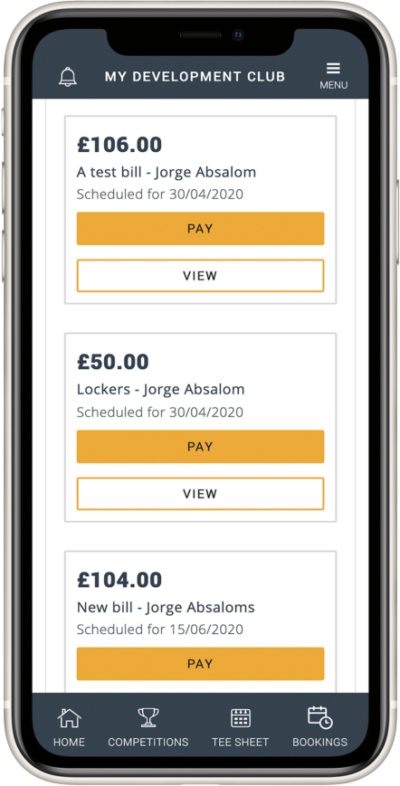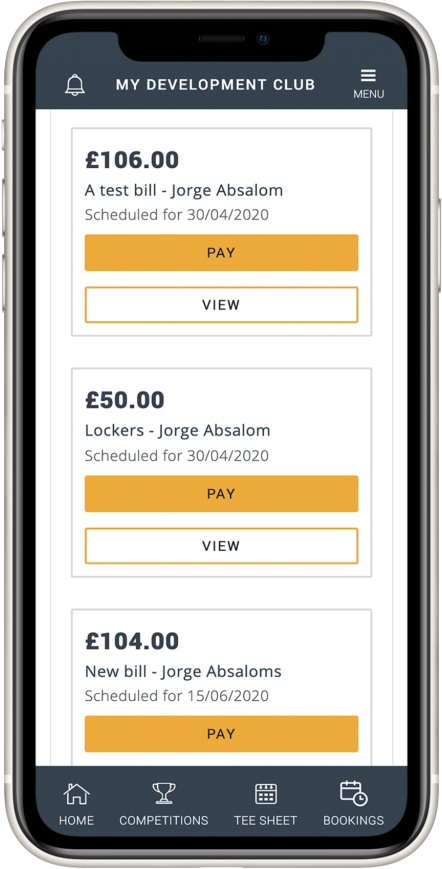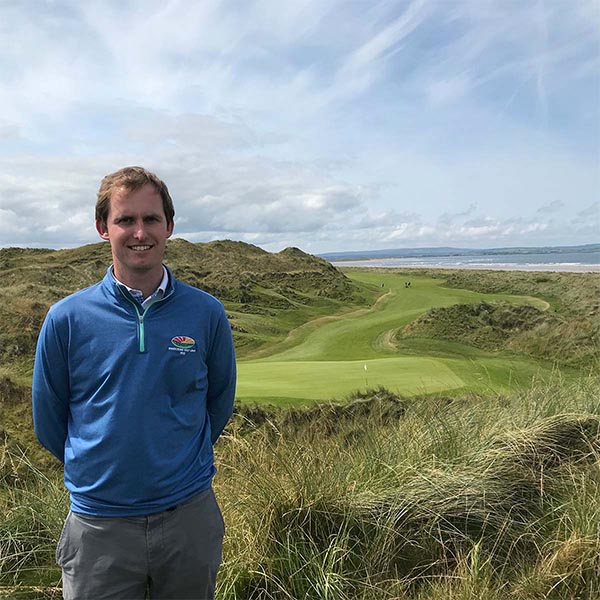 Keith O'Neill
General Manager | Enniscrone Golf Club
"Switching to memberships has been a breeze with fantastic support from the BRS Golf Team during onboarding. Now our members can quickly and easily pay their bills online. And, thanks to the integrated payments solution, visitors pre-pay their green fees, resulting in significant cash flow improvement."
How do I get started with Memberships?
You can arrange a demo by contacting [email protected]. Once you are ready to go live our implementation specialists will guide you through our onboarding process. You will be up and running and ready to bill members in a matter of hours.
Do I need to use BRS Payments?
Our bespoke payments solution, BRS Payments, was designed specifically for golf clubs and powers our Memberships and Flexible Memberships offerings. You will need to come onboard with BRS Payments in order to enable members to pay their bills online. We offer a special rate to clubs using Payments and Memberships together.
What if I need help with the system?
We will provide user guides, help sessions and video tutorials that you can access online any time. Our unparalleled support team are also available on live chat, email and phone Monday-Friday 9am-5pm and will be happy to help.
Is there a cost for Flexible Memberships?
No. Golf clubs who come on board with Memberships and BRS Payments can also access our Flexible Memberships software for free. Give your members even more flexible ways to pay and engage with your club by enabling our green fee points based solution. You can find out more about Flexible Memberships via the website menu.